What the Hell Is Happening on This Plymouth Bakery's Facebook Page?
The person behind recent posts calling slavery 'necessary' claims to be a former employee, hoping to draw attention to a sect of fundamentalist Christians.
By Kyle Scott Clauss | Boston Daily |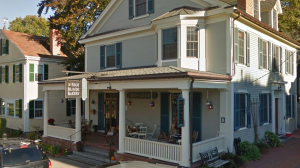 Blue Blinds Bakery is a quaint cafe serving up organic fare in downtown Plymouth. "Blue Blinds is probably the prettiest, all-around most pleasing café south of Boston and, arguably, a much wider area," the Globe raved in 2011. But it isn't the egg-and-cheddar breakfast sandwiches turning heads these days—it's the bakery's Facebook posts.
"As promised, let's talk about the blacks!" one from Thursday reads. "One of the most frequent questions we get is, 'Are you racist?' The answer is no. But we do believe that slavery is necessary. There's a difference."
The post, shared more than 200 times as of Sunday evening, references a Biblical passage, and explains that as black people turn to Jesus Christ, or Yahshua, "they are able to lift this curse on their spirit."
According to its website, Blue Blinds is run by members of a Twelve Tribes community, a fundamentalist Christian movement founded by Elbert "Gene" Spriggs in Chattanooga, Tennessee, in 1972. A subsequent post on the bakery's Facebook page includes two articles by the Daily Mail and Pacific Standard magazine, each detailing allegations of child labor abuses in Twelve Tribes communities.
"While we can not say what's written there is incorrect, people erroneously think it means we abuse our children. This is wrong!" the post reads. "Our children LOVE discipline! They crave it, just like the blacks crave subservience to Shem and Yapheth (see the previous post)."
Blue Blinds makes an appearance in the Pacific Standard piece. The author, Julia Scheeres, visits the bakery and quaffs a Fair-Trade certified coffee while reading one of the group's brochures, titled "When the Spanking Stopped, All Hell Broke Loose."
"The Tribes argues that progressive childrearing practices such as time-outs or taking away treats or screen time have resulted in a spike in juvenile violence and crime," Scheeres wrote in 2015. "The only way to reverse this trend, the Tribes contends, is by using the proverbial rod — early, often, and hard enough to leave marks."
The inflammatory posts are a relatively new phenomenon for the Blue Blinds Facebook page, It appears to have been created in 2011, right after the glowing Globe review came out, only occasionally posting photos of the shop before going dormant on March 4, 2012. The page came roaring back to life in June with a new attitude. After the most recent posts went viral, some have suggested that an imposter may be responsible.
I messaged the bakery's Facebook page Sunday afternoon and asked how they thought people would react to their apparent endorsement of slavery. "We know our views might be unpopular with some. We're not idiots. But we hoped there would be more acceptance for the views and beliefs of others from our community," they said.
But once I asked if the page was an imposter, or if the bakery actually supported slavery, they dropped the act.
"This is the real page. I set it up while working at the Bakery many years ago," they said, speaking only on condition of anonymity. "I was born into the Twelve Tribes, which owns the Bakery, and from a very young age disagreed with many of the beliefs they had—among them, that slavery was necessary and that all people outside of the community were going to hell."
They said the object wasn't to draw attention to the slavery issue, but to the group's treatment of children. Everything included in these controversial posts, they said, was "taken directly from what I was told every day growing up."
"There were times when I couldn't sleep at night because my 3 month old sister was being beaten mercilessly in the room next door because she was crying in the middle of the night. I'm not sure if my parents really believed what the 'elders' told them or if they were just frustrated they had to get up. This is not isolated either. They are taught that this is 'love,'" they said.
"Additionally, all of the children work day and night to make the food that the Blue Blinds Bakery serves. Like the adults, there is no compensation."
Another Facebook page for Blue Blinds Bakery—titled, "Blue Blinds Bakery – real"—describes itself as an "alternative to the fraudulent" one.
"Thanks for all the support here, and for those of you who have called us concerned about the slander. We are working on it," one post reads. The allegedly "real" Blue Blinds Facebook did not immediately respond to requests for comment, while Captain John Rogers, Jr. of Plymouth Police could not be immediately reached.