Atlantic Pyrenees: prompt dragnet operation in the sect of Tabitha's Place-16June2015
Source: Europe 1, 16 june 2015, AFP
Published at 18h35, 16th of June 2015, modified at 20:03, 16 June 2015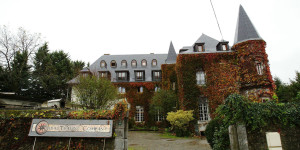 The manor house in the sect of Tabithas place, in Sus, in the Atlantic Pyrenees.
By Marc-Antoine Bindler and Stéphane Place with  AFP
200 police officers have been mobilised in this operation which that has led to around 10 arrests. Members of the movement have been charged with several infringements.
It is called Tabithas place, the Apostolic Order or the Twelve Tribes. An important police operation was carried out Tuesday in the premises of this sectarian community, in Sus, near Pau, in the Atlantic Pyrenees, where it has settled since 1983.
An "apocalyptic "sect and 200 policemen. Considerable resources have been mobilized during the night between Monday and Tuesday, by rogatory commission requested by the magistrate in Pau,  aiming at multiple infringements. Around 200 gendarmes are mobilized to carry out investigations on this sect considered as "apocalyptic", noted Colonel William Vaquette, commander of the gendarmerie force of this region, confirming the information given by the daily newspaper The Pyrenees Republic.
The operation has mobilized a anti-riot squadron, the Forensic Research Institute, an helicopter from Bordeaux and the Task Force from Pau (GIR). Forensic doctors from Pau have also been integrated to the apparatus, in particular to examine present children.
Four children handed to the care of social services. The investigators searched the inside of the manor house occupied by the sect, residence of 100 persons including children. According to the information we have received, conditions in which these minors live are the centre of attention of the investigators. Following revelations from an ex-member, suspicions of physical corrections and of failures to comply with educational requirements concerning these children were referred to the magistrate. The public Prosecutor has handed four of them, aged from 18 months to 13 years into the temporary care of the social services.
The second section of these investigations centres on the financial aspect and in particular the means of these community. Tabitha's sells fruits and vegetables, crafted goods. Investigators are seeking to shed light on the different functions occupied by different people in this activity.
Ten or so arrests. The same operation takes place in parallel in Perpignan, where the same sect has people working there, added Colonel Vaquette. Around ten arrests took place in between Sus and Perpignan. Tuesday, the Prosecutor refused to give more details at this moment of time, on the motives for such operation.
Members previously sentenced.  Reported as a sect by the Parliamentary Enquiry Commission on Sects , this movement in Sus counts around  120 members including around 50 children, according to Colonel Vaquette.
In March 2002, 19 members of Tabitha's place were sentenced by the Court of Appeal of Pau,for negligence of  parental  legal duties , particularly of refusal to educate and vaccinate their children. In 1997, a 19 months old child had died there for lack of nutrition and care. His parents, members of this community originated in the USA and claiming to strictly adhere to Biblical precepts, was sentenced to 12 years of penal confinement