The Yellow Deli opens in Hiddenite
Source: Taylorsville Times
By Editor | October 25, 2016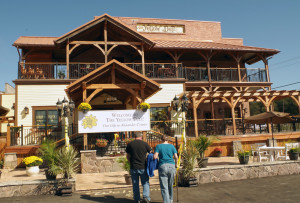 The Twelve Tribes have opened The Yellow Deli restaurant in Hiddenite, at the corner of NC 90 East and Sulphur Springs Rd.
The facility is open 24 hours: from noon on Sundays to 3 p.m. on Fridays. A large crowd attended the Grand Opening on Tuesday, October 25.
Many may recall the building as the former N.P. Payne store and Murdock Chair Company. Renovations and construction have connected these buildings with the former Trio Grocery Store, which the Tribes will soon open as the Wholesome Bread Bakery and Community Food Commissary.
For more information, phone 828-548-DELI or visit www.YellowDeli.com.